The COVID-19 pandemic has impacted the U.S. Real Estate market greatly. The lockdowns, remote work and fear of the virus had almost completely eliminated the appeal of living in a big city. The pandemic has exacerbated the trend of outward migration from urban centers to the suburbs. The sharp migration and inventory shortages led to historic jumps in price for median homes in the first half of 2021, as Wall Street corporations such as Blackstone and Blackrock entered the buyers' market, pricing out many potential homeowners. Simultaneously, the eviction moratorium has been extended until October 3rd (1). In August, 1 in 7 households are behind on their rent payments and as many as 3.6 million households are at risk of eviction as rent prices are also going up steadily (2). In July the U.S. government signed the new infrastructure bill that left out public housing (3). It seems that the longer we're going into the pandemic, more and more Americans will find themselves at risk of losing their shelter, and thus the demand for public housing will increase significantly. At Realya, we're wondering if the federal government will make the move towards expansions of public housing programs that will be sufficient for those in need.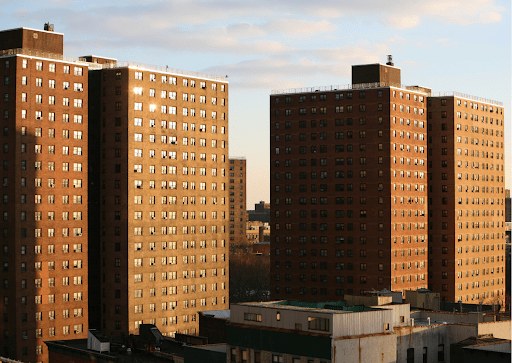 During the first half of 2021 we've seen out of hand price jumps and bidding wars, which made homeownership out of reach for many. The low mortgage rates, low inventories and the upper-middle class millennials finally deciding to buy homes drove the prices up. The Wall Street Journal has published a report saying that there are over 5.5 million housing units missing from the market due to under-construction in the past 20 years (4), and current construction rates aren't catching up with the demand while materials costs are also going up (5). The National Association of Realtors cited a 23.6% year-over-year record breaking price jump last June (6). While many were concerned about a market crash, in July the market started to slow down, yet the prices are still relatively high (7). Experts predict that house prices will continue to go up until 2022 or 2023, as mortgage rates will go back up and inventory will be replenished (8).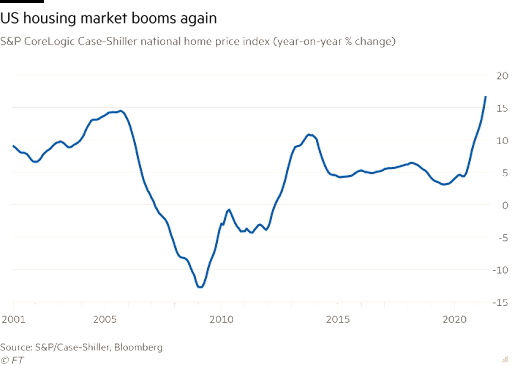 Graph from the Wall Street Journal (4)
Although many Americans are planning on going back to work, the Delta variant threat is looming and deepening the sense of financial uncertainty. Remote work is expected to stay as part of the 'New Normal' but many might stay unemployed if new lockdown measures are announced. Covid reports in August do not indicate another lockdown so far, and restrictions vary by state (9). With the return to work, many Americans are back to living on their own instead of shared residence with family or friends (2). Zumper reports steady rent increases in the past few months. One and two bedroom apartments went up  by 7% and 8.7% year-over-year. According to reports by Yahoo! 95% of single family homes are occupied and their rent went up 6.6% year-over-over in May, which is four times the growth of May 2020 (10).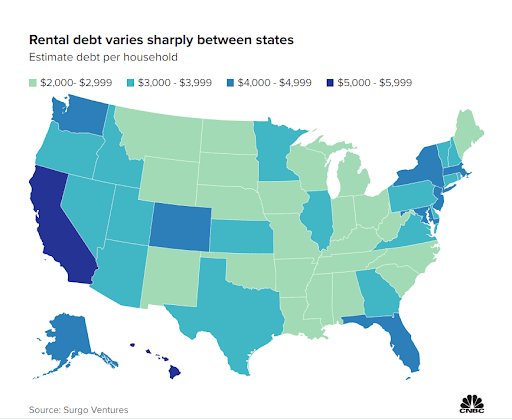 CNBC (1)
The eviction moratorium is saving millions of American families from homelessness. The eviction moratorium has been extended again at the end of July until October 3rd following a major public outcry. Despite its importance, the private landlords are those who are suffering losses and can potentially lose their properties (11). A $46.5 billion rent relief fund was passed by congress to aid residents who are behind on their payments, yet only $3 billion was transferred to a small portion of eligible applicants (12).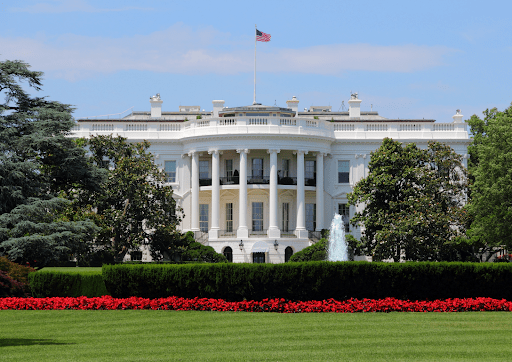 Last April the infrastructure plan proposal gave some hope for public housing funding. The original proposal was estimated at $2 trillion and included new budgets for public housing costs (3). United States Secretary of Housing and Urban Development, Marcia Fudge praised the proposal and tweeted "housing is infrastructure" (13). The bipartisan infrastructure bill was approved in August at a reduced budget of $1 trillion, without the housing allocation. Nevertheless, public housing expansion is still on the table with the new budget plan by the Biden government, which is estimated at $3.5 trillion and planned to include $332 billion for rental aid and affordable housing to help reduce socio-economic disparities (14). According to Vox, the federal government must move quickly as $70 billion are required for public housing repairs for safe accommodations (15).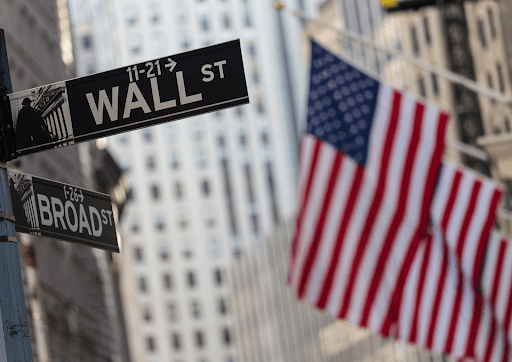 While federal plans are brewing, major corporations like Blackstone and Blackrock are aggressively entering the housing market with billions (16). Investors spent $53 billion on multifamily real estate during the three months ending in June, the most ever for the second quarter, according to data from Real Capital Analytics (17). We've read about Built-to-Rent projects of new single-family homes for rent that will be managed by property management companies. These new strategies are a response to the high demand for suburban single-family homes and their high rents. Wall Street corporations entering residential Real Estate prices out the average buyer and makes them rent instead (18).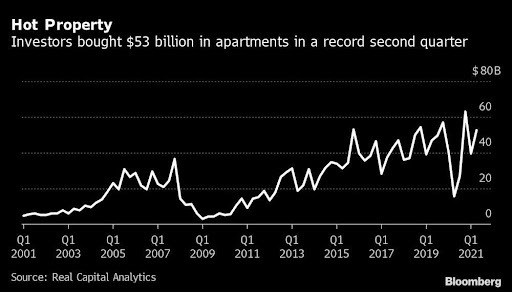 Bloomberg (17)
It has been established that public housing in poor neighborhoods, especially in large metropolitans, generally doesn't help residents break out of poverty. Research by the Center on Budget and Policy Priorities indicates that most publicly aided residents (57%) are unemployed and 60% are below the poverty line even with their income (19). Public housing in large cities are at a state of infrastructural neglect, and with high crime rates these factors can cause escalation in health and financial conditions (20). The counter argument for public housing is that without it, these residents will be pushed out from their homes. In these common circumstances, public housing in poor neighborhoods leaves these areas 'frozen' while the rest of the cities continue to develop (21). With the rise in demand for housing in the suburbs, residents who are getting financial aid will not have a choice but to live in these high density low-income neighborhoods. Unfortunately the homeless issue in the U.S. isn't new, but getting worse, the New York Times reported that homelessness in U.S. rose for the 4th straight year. In January 2020, the homeless population was recorded at about 580,000. This number likely increased since the financial challenges caused by the pandemic.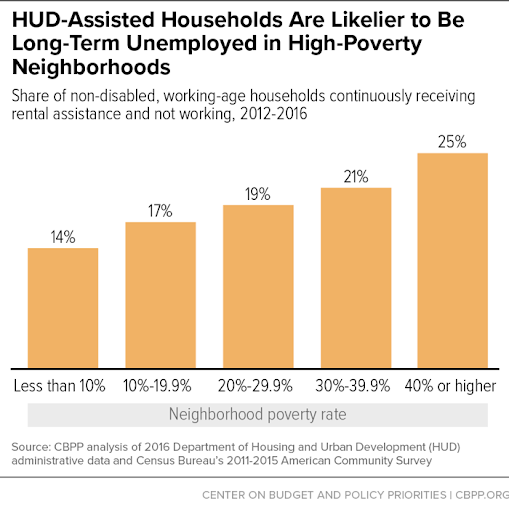 Center on Budget and Policy Priorities (19)
Low income households are having a rough time when it comes to housing, especially those who are behind their rent payments. While rents are only going up, there's only partial and selective government aid. What will happen when the eviction moratorium expires and government rent aid will diminish? Will the Biden administration let millions of American households get evicted from their homes or will it take drastic actions to expand public housing during the ongoing Covid-19 crisis. For now, the federal plans seem vague and distant, which is creating a sense of uncertainty for the residents. Towards the end of the eviction moratorium it's likely we'll see more protests and media pressure for finding solutions for those who are struggling with housing. 
Sources: